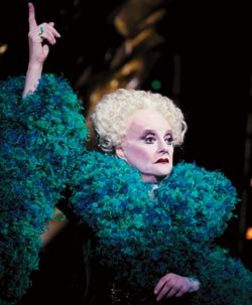 Shelley as Madame Morrible



For today's Musical Monday, I will be writing a bit about seeing Carole Shelley as Grandma in Billy Elliot. She was also my first Madame Morrible in Wicked, which was awesome! I saw Billy Elliot on April 17, 2010 at 8pm on Broadway, directly after coming from a matinee of Wicked. I was impressed with the show, though not quite as impressed as other people had been. I was blown away by the dancing and impressed by the story, the music lacked a little (surprisingly, as Elton John usually writes incredible, memorable music) and the show seemed a bit long. Though admittedly this may be because I had just come from Wicked, my favorite show!
Shelley as Grandma
Carole (as well as Will Chase) was the best part of the show! She was hysterical and her voice sounded great! I loved the times she would come into the "house" yelling "Post! Pooooooost!" in the crackly, crazy voice. In an otherwise heavy show, she brought comedic relief, but also her song was very well done, she is an excellent storyteller and she truly got lost in it! I loved getting to meet her after the show as well, I heard she very rarely comes out of the stage door. I also heard that Will Chase rarely came out and both did! It was great and she was so kind!