This stop on the tour was particularly meaningful to me, as I just graduated college. I got to take a a handful of friends up to see the show for their first times, I got to take my boyfriend back for seconds (and thirds!) and I also got to just experience the show quite a few times within a short time period.
I have seen Wicked at Shea's twice before this run. Once in 2008 while Carmen Cusack and Katie Rose Clarke were the stars of the First National Tour, and once in 2011 while Jackie Burns and Amanda Jane Cooper were the stars of the First National Tour. I think Shea's is a really gorgeous venue and I love seeing shows there. Especially after the rather irritating experience we had at the Auditorium Theatre in Rochester, it was nice to be at a venue where the staff is actually...nice.
As I said, I got to bring several friends with me. I got to bring my boyfriend back for seconds and thirds, as well as my friends Brooks, Brooke, Anthony and Jackie. Three of them had never seen it before, and it was so cool getting to take them all for their first times in Oz. All of them walked away really loving it.
Views (not the Drake album):
The ensemble is incredible and incredibly interesting to watch. At some point, every single person had a moment that stood out to me.
Olivia Polci, Anthony Sagaria, Allison Bailey, Sara Gonzales, Kerry Blanchard, Michael Drolet
and
John Krause
in particular always had some kind of moment that stood out to me. Olivia's ad-libs in the Ozdust scene were always hysterical, I'm 99% sure I heard her say something like 'that's right, punch the air, get it out!' as Elphaba was dancing angrily during that scene. Her scene partner moments with John Krause were always eye grabbing as well for some reason. Allison is adorable onstage and off, and her smile radiates through the theatre. Sara is a really captivating dancer, and it was so cool to see a totally new face completely killing it. Anthony also catches the eye quite a bit, he's a very impressive dancer, and I enjoyed watching his reactions to things.
First, of the leads, I want to talk about
Emily Schultheis
as Elphaba. I got the chance to see her twice more during the Buffalo run. Once at the very beginning of her first 8 show week, and once on closing day for the matinee. Especially on the Tuesday of her full week, she was mesmerizing. I thought she did a nice job in Rochester, but I thought she was excellent in Buffalo. Her 'Wizard and I' ending was MUCH stronger the second time around, and the confidence and support she had in her voice for the end was a huge improvement. She still occasionally has trouble with dynamics, the song as a whole was a bit louder and didn't change in volume all that much, but her charm made up for it. I LOVED 'What Is This Feeling' between her and Ginna Claire. She imitated GC at one point and started messing with her hat, and the whole thing began to come off her head. She walked around for half the song with her beanie pushed all the way forward on her head, and then Napoleon Gladney actually incorporated a gesture into the staging where he pulled an invisible hat backwards on his head and then pointed at Emily, and she immediately fixed it. It was so funny. I really love Emily's Dr. Dillamond scene before Something Bad. She's such a natural actress there, and the chemistry and caring between she and Harry Bouvy's Elphaba and Dillamond was very present. She also has a very strong 'Dancing Through Life' sequence and her chemistry with Kristen, Jeremy and GC really shone. I like her during 'Popular' but she is not quite as funny as
Jess. I do think that she takes a different approach and really plays up Elphaba's awkwardness rather than making her funnier, which I can appreciate. I'm Not That Girl is always pretty from her, but her true stand out song of Act 1 is Defying Gravity. Her voice opens up and resonates in a way that it begins to for the rest of the show. During her full week on, she threw in a crazy second 'bring me down' riff that I went nuts over because it was so unexpected and amazing. Her Act 2 is her strongest. She matures very well, and immediately upon entering in the Gov's Mansion scene, her voice sounds older and more hushed, like she's been alone for a long time. Emily's strongest song is No Good Deed. She sings it pretty straight, with the exception of a nice 'Fiyero' riff that she threw in both times I saw her in Buffalo. Her voice has a raw power and kick to it that reminds me a lot of Coleen Sexton. She is the first Elphaba I have seen in a long time that sings the 'again' at the end exactly is it is written and it always takes me a little off guard, but in a good way. Her final 'surrender' scene and For Good with Ginna Claire is always beautiful and very touching. They sing For Good incredibly beautifully, and it's clear that they're good friends offstage as well as onstage. I really like Emily in the role of Elphaba and I hope this is just the beginning for her.
Fred Applegate
is a very charming Wizard. He has a really powerful baritone voice and it is always nice to see a Wizard who really does sing his parts. His standout moment was 'Wonderful' of course. He tells the story very well, and has a moment towards the beginning of the song where he skips around the stage and gets a huge laugh from the audience. I really loved his scene with Elphaba right before as well. It was very convincing and sly. Elphaba clearly does not want to give into the temptation of being 'rehabilitated' and it's clear why she struggles with it. Fred does a great job at being cunning and convincing.
Isabel Keating
continues to impress in the role of Madame Morrible. She reminds me a lot of Alison Fraser, which I have said before. However, she has her own charm and wickedness about her. Her beginning scene at Shiz was exceptional each time. I liked that her Ozdust scene was not as overdone as some other Madame Morribles, and her back and forth scenes with Ginna Claire Mason were snappy and funny. I found myself watching her a lot during Thank Goodness each time that I saw her, and the faces that she made at Ginna as she sang and hesitated were subtle but completely genius and noticeable, and absolutely influenced Ginna's (brilliant) performance. Her best scenes were the Defying Gravity speech and the Witch Hunters, both of which she was incredibly menacing in. I thought her performance was exceptional.
Kristen Martin
is a phenomenal Nessarose. I was lucky enough to see her in the role a total of 10 times before she left, and she is honestly among the best performers I have ever seen play the role. First of all, one of the most endearing people ever onstage. She has such a pretty smile, and genuine hopefulness about her at the beginning. She and Jessica (and Emily!) really played up the love between Elphaba and Nessarose at the beginning. Her voice is amongst the strongest of any Nessarose I have seen, particularly in WWOTE. She belts the big stuff, and keeps quiet on the small stuff. I loved her Miranda Sings-esque smirk after saying "I'm an unelected official." It was hilarious and the audience seemed to agree. I also really loved her sung portion in Dancing Through Life, it showed the beauty and vulnerability in her voice. I really hope she returns to the show someday down the line!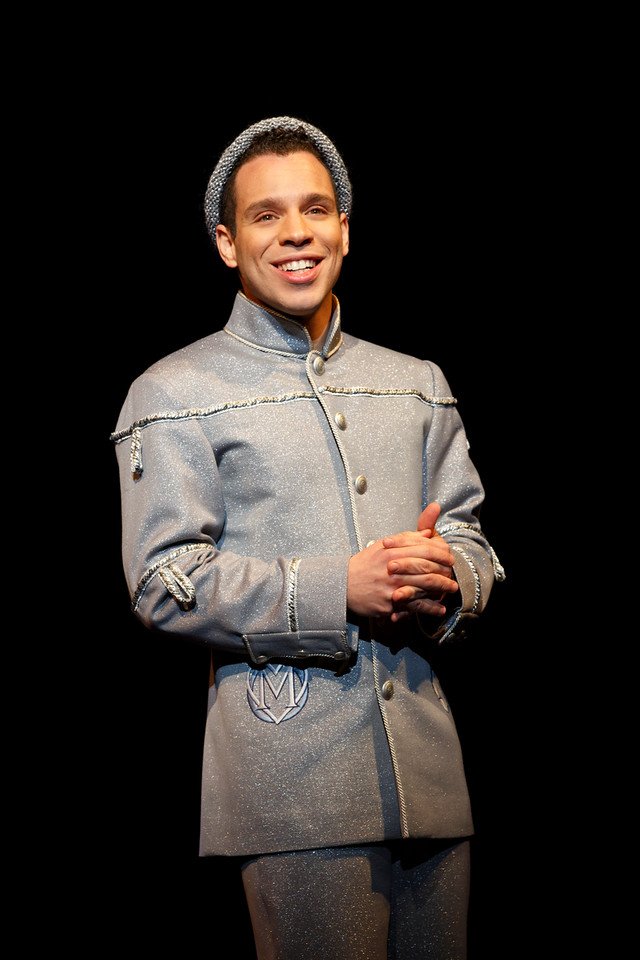 Robin De Jesus
was a new Boq for me. I went in not knowing what to expect, because I loved Andy
Mientus and had really hoped that I would get to see him. However, I could not have been more pleasantly surprised with Robin. BEAUTIFUL voice (which I already knew), but his Boq is super memorable and endearing. His vocals in Dancing Through Life, WWOTE, and Witch Hunters were very rich, well supported and resonant. He made the character memorable and likable. I am so glad I got to witness him in this role, and I think it is really cool that a two-time Tony Award nominee is playing Boq.
Jeremy Woodard
continues to shine in the role of Fiyero. I love his voice a lot. He has a very easy and smooth presence onstage, and Dancing Through Life is always really solid. There were certain performances where he had a tiny bit of trouble with the higher notes in DTL, but only very slightly noticeably. He is an excellent and natural dancer, and as an actor he is one of the most genuine Fiyeros I have ever seen. His Fiyero is a bit more "moodified" than some of the others I have seen, he seems to begin his transition very early on at Shiz. The chemistry and romantic feeling between he and Jess's Fiyero and Elphaba was obvious from the get-go, and they had several charming moments onstage together, particularly in the lion cub scene. I noticed that he was very handsy in many places during As Long As You're Mine, which added a little more sexuality to the song. I also really enjoyed his fallen house and *SPOIIIIILER* Scarecrow */SPOIIIIILER* scenes.
Ginna Claire Mason
is an exceptional Glinda in every way. She has truly blossomed in the role. I really loved her on Broadway last June when I got to see her in a happy surprise. But she has truly evolved into a leading lady in every sense. Her soprano is gorgeous, and her vocal support is evident. The voice flows right out and engulfs the audience. She got a huge laugh every single show with her 'it's good to see me, isn't it?' line, and then went on to completely smash the opening. She's hysterical in the Shiz scenes, particularly after revealing the 'private suite.' Her antics were very childish and hilarious, and I laughed every time, despite obviously having seen the show so many times already. She really shone in 'What Is This Feeling' as well. Her strongest points in Act 1 are 'Dancing Through Life' and 'Popular' where she completely owns the stage, and it's difficult not to watch her. She's a natural dancer/mover, and the DTL scene always went seamlessly. My favorite moment every night was watching Jeremy spin at the beginning of the song, and seeing Ginna Claire move her eyes down to his butt, widen, and then drop her jaw. It was really funny to me for some reason. She also worked really hard to make sure she was a part of Fiyero's game plan, she worked just as hard to get his attention at first as Boq did to get hers.
And then of course, Popular. Some distinctive choices she made included screaming into the pillow after 'Fiyero and I are going to be married!' and of course her bed flop when Elphaba doesn't know what secret to tell her. Right before 'toss toss' she pulled her leg up over her head, and then booped herself and Elphaba on the nose with her finger, and then grabbed Elphaba's finger and did the same. It was unexpected but very funny. She was exceptionally endearing in that scene. She was also very endearing in the train station scene with Elphaba and Fiyero, and her tears were genuine as was the heartbreak. One Short Day, A Sentimental Man and Defying Gravity were all really well done on her part as well, even though Elphaba tends to dominate those scenes. However, Ginna Claire's transition from Act 1 to Act 2 is one of the best I have ever scene. While she was young and childish through much of Act 1, her Act 2 was emotional, and there was an entirely new depth to it. She was a perfect match for Jessica in terms of evolution between acts, which I'll talk about when I review her. Her speaking voice changed, her mannerisms changed, and she was calmer. 'Thank Goodness' was absolutely beautiful each night, vocally and emotionally. She was very in the moment the entire time, and the connection to the lyrics was reflected by the hurt and pain in her voice and face.
Jessica Vosk:
I don't know where to begin with Jessica Vosk. She has gained quite a cult following on the internet and I was IMMEDIATELY able to see why. The moment she began singing in 'The Wizard and I' during the Thursday matinee on opening week, I knew she was something special. The vocal control and placement this incredible woman possesses is unreal. First of all, literally EVERYTHING she sings resonates. Every note is executed with precision, intent and control. Her vocal flips and embellishments are timed and remained consistent throughout the run. Her voice is sent directly from God. Not only that, but she is a very VERY gifted actress, who brought new life,
spunk and sass to a very iconic role. She is absolutely believable both as a teenager in Act 1 and as a young adult in Act 2. Her performance is layered, multi-dimensional and ever growing. I cannot believe it has taken this long for her to play this role, but she is a true gift in it.
Jess's Act 2 is, if possible, even stronger. From the moment she enters in the Governor's Mansion scene, a shift had taken place. She was completely in control of the stage. Elphaba has evolved, and Jess made her into a very silently powerful and confident young woman on a mission. Her care and love for her sister is evident throughout the entire show, however the disappointment and hurt that Jess brought to this scene was subtle and evident at the same time. The subsequent horror at finding out what happened to her was completely believable and earned my sympathy immediately. Also, JV hands down has the best witch cackle of any Elphaba I have seen. She got applause every single time, which actually almost never happens in my experience. Her witch fight scene is a bit larger than life, but completely hilarious, earning her several laughs and "oohs" from the audience, and she worked very well off of Ginna Claire's quirky expression of anger. No Good Deed was also completely re-defined for me. The resonance, the power, and vulnerability in her voice is unmatched. I couldn't believe how perfect she was in that song. Every time I saw her, she optioned up on the word "Fiyero" and her ending "again" included a nice little vocal roll that many Elphabas have done but not been quite as smooth at. The maturity and sadness in 'For Good' was unbelievable. Her voice mixed with GC's was magical, and they had one of the best renditions of the song I have ever heard. The finale was beautiful, as was her last scene with Fiyero.
I don't know how else to describe her. She is a must see Elphaba. I am CERTAIN that they will not sleep on the chance to ask her to Broadway, but in the event that she does not go to Broadway, or else becomes a world famous musician (which is entirely possible), GO see her in Boston or Philly before she leaves. I cannot say enough good things about her.
Curtain Call (just my favorites):
Overall, I just want to say that the current tour cast is one of the strongest Wicked casts I have ever seen, and I am so glad I got to experience them so many times. I am certain many of them will end up cycling into (or back into) the Broadway company. Thanks for a great three weeks of shows guys!
Stage Door Pictures:
_________________________________________
_______________________________________
____________________________________________
_________________________________
____________________________________
____________________________________
_____________________________________